Tech Tips
Tech Tips (Snowmobiles)
200 CLASS TIPS
The new ISR 200 Stock class has proven to be a very interesting class. The class rules were structured to allow very little changes to be done to the sled and put more emphases on the driver. The other objective was to make it easier for the first time racer to get involved in racing without having to break the wallet on speed parts to be competitive.
The feedback so far has been good overall, but as with any racing has also created some minor controversy, and has been a little stressful especially for the Dads that were used to tweaking the 120s to get an edge on the competitor.
Compiled below is a list of speed tips for the new 200 sleds. This list was developed from the input of many grassroots and National level racers along with our own in house dyno testing.
We commend the Dads and Crews who are willing to help the sport by helping the newcomers to racing with these tips.
We have found that heavier kids are not at a disadvantage in the 200 class like in the 120 class in fact it might even help them a bit.

• Friction is your enemy, loose is fast, this is why the 200 gets faster with use, we have seen sleds with a ton of hours on them be almost a 1 to2 mph faster than a new sled. So ride, ride, and ride the more seat time your young racer has the better they will get and the faster the sledwill get.
• The 200 comes with every other track clip missing, (FRICTION) install all the track clips, graphite hi-fax will also help. Looser track tension will help also. By turning up the idle until the track is turning over when the sled is on the track stand warming up, takes the set out of the track and makes a huge difference in the take off. Remember the hole shot is everything in 200 racing.
• Ski alignment; make sure the skis run parallel to the track, to prevent dog tracking of the sled. Lay a 6ft known straight edge along the side of your track and measure to the side of your ski to see if it is running parallel then adjust the other ski to the match, remember to keep the handle bars straight when doing this.
• Engine oil 19 oz. of good 10w30 oil Amsoil 4T or Redline racing oil is my recommendation.
• Jetting; The 200 comes very lean due to emissions especially the pilot circuit. Factory pilot jets are not available at this time so drilling the pilot jet is legal to do. Using Jet Drill Kit part # 200 Jet Drill Kit drill jet to #50. The engine will idle a little erratic but this is nothing to worry about. It will give you a great hole shot. If you are running an adjustable main jet 1 3/8 to 1 ½ turns out from seated will give you optimum performance for temps of 32F to -5F.
• Valve setting .002 on the Intake and Exhaust works great. Remember to set the valves when cold.
• Clutching; Primary clutch must stay as factory, but you can check for free movement of the floating sheave. Secondary clutch, on hilly tracks we have found tightening the secondary to help performance and on flat tracks loosening helps performance. (See details and pictures at end of page)
• Clutch alignment; (BIG FRICTION) almost 2 mph in 150 feet. Make sure that your primary and secondary clutches are running in alignment. Put your sled on the track stand and (SAFELY)run the sled at WOT from a (SAFE) distance observe the drive belt to see if it is running in a straight line, if it is not running true, shim the secondary clutch out to achieve proper alignment.
• Engagement; We have seen big reductions in hole shot times when you bring the engine rpms up to around 2300 before hitting the throttle at the starting line.
• THE MOST IMPORTANT TIP. THE DRIVER; Remember this class is all about the driver, riding style will have a big effect on the performance of the 200. Because of the track length the 200 does not have great weight transfer, riding as far back on seat as possible reduces ski pressure and will add more traction increasing speed. Keeping forward momentum... is the real key to corner speed. Ever see a rider take the high side or gain a couple of sled lengths out of the corner this is because they kept forward momentum. Train your rider to ALWAYS keep the throttle wide open and when entering a corner grab, the brake without letting off the throttle this will keep the drivetrain loaded allowing them to keep forward momentum.
• And most important HAVE FUN...the more pressure you put on your child to do good, the more likely they will not want to move forward in their racing career.


Stock Class Racing Tips
Over the past few years we have started to get a lot of calls from the new 1st time racers in 120 stock class racing at the regional level. Their biggest complaint is how slow they are compared to the other racers that have been racing for more than 1 season. Their first response is the other racer must be cheating to go that much faster and what can they do to make their sled as fast. I tell them that I DO NOT believe in cheating and feel it is a very poor example to set for kids. So I have compiled a list of things that can help these 1st time racers have a competitive edge like the seasoned racers.

1) You can not take a stock yard sled and expect it to perform like a well prepped race sled without doing even the basic preparation. Most of the time the difference between winning sleds and slower sleds is taking the time to prepare your sled. Not cheating.

2) Engines Prep.

*Run 87 octane fuel, race fuel in a stock engine has no performance gains what so ever.

*Run 18 ozs of 10W30 engine oil.

*Set intake and exhaust valves a .004 clearance. There is a little more performance to be had at different settings, but this is a very good starting point.

* Install an adjustable main jet. This is a must to get peak performance, and it is ISR legal.

*Install a heavier governor spring for more peak rpms or removing the governor gear from the inside of the engine is an ISR legal option also.

3) Chassis Setup

*Remember fiction in the drive train is lost hp and speed. The more friction you can remove from the drive train the more usable hp and speed you will have.

*Make sure your skis are aligned and have no big gouges out of them that can cause extra drag in the snow. Armor All also works great to keep the slippery on the bottom.

*Make sure all of the track clips are installed properly on the track and none are missing or damaged.

*Make sure all of the track wheels turn freely, also the drive axle bearings. Removing the seals on the wheel bearings and replacing the grease in them with a light weight motor oil will reduce friction greatly. Remember to replace the seals.

*NOTE: The amount of pressure it takes to move the track on a National event winning stock class 120 is around 4 to 4.5 lbs when checked with a fish scale.

*Make sure the hifax are in good condition, and the track rolls free over the hifax.

*Lube your track and hifax with vegetable cooking oil. It is bio degradable and will reduce friction at the hifax and drivers. Note: check to see if this is legal to do for your race circuit.

*Remember loose is fast. The racer with a 2 year old sled will always have a freer rolling chassis then a new sled.

*Warming up your sled SAFELY before the race is very important; especially with the track turning this will let the track roll easier.

*All of the above items will give you at least a 2 to 3 mph gain with stock gearing. This is a huge increase over a non prepped sled.

4) Race prepping your child
This is one of the most important items on the list.

*SEAT TIME, SEAT TIME, SEAT TIME. The more your son or daughter ride the more comfortable they will become with the sled. Teach your child how to stand up when riding; have them ride on rough terrain instead of smooth trails. The kid that wins is not always the one with the fastest sled. It is the kid that can stay on their sled in the bumps and deep snow and finish the race without falling off.

* MOST IMPORTANT TIP! Let your child have FUN! The less pressure you put on your child to win, the better they will do.





Secrets For The Novice Tuner
1. Most experts aren't.

2. Research is the difference between speculation and investment.

3. Just because someone goes fast doesn't mean you should do whatever you THINK they did.

This path assumes they knew what they were doing, which isn't necessarily the case.

Take this path and you will be guaranteed second place.

4. Test, Test, Test.



Clutch Setup Tool
Measuring spring stack heights is a very important part of clutch tuning to get the full potential from your bike or quad. Even with accurately measured spring stacks you can still see differences in fully engaged clutch shoe pressures causing one clutch shoe to contact the drum sooner or later than the others. This can add 100ths of a second to your hole shot time. This can be caused by many different factors like clutch shoe wear in the stack bolt area, over tightening washer stack bolts, center arbor wear, etc. This tool was design to give you a very accurate clutch shoe spring stack pressure measurements with the clutch assembled; this allows you to overcome the factors listed above.It has a high quality digital pressure gauge that reads in 10ths of pounds, a dial indicator that reads in 1000ths and is very easy to use in your race trailer or shop.
Hilliard Extreme Duty Clutch Benefits
Finding Gear Ratio
Secrets For Novice Tuner
SECRETS FOR THE NOVICE TUNER

1. Most experts aren't.
2. Research is the difference between speculation and investment.
3. Just because someone goes fast doesn't mean you should do whatever you THINK they did.
This path assumes they knew what they were doing, which isn't necessarily the case.
Take this path and you will be guaranteed second place.
4. Test, Test, Test.
2011 120 Valve Spring Rules Correction
I have received several calls in reguards to the 2011 ISR rules on the 120 valve springs. The following information should help answer your questions. The ISR rule book spring chart reads (CLOSED HGT) It should read (OPEN HGT) instead,the (ONLY) data you need to worry about when teching is the (OPEN HGT) and (OPEN PRESSURE). Before the rule book was printed I was contacted by the ISR to give them exact spec's for the 120 valve springs. The following is a copy of the letter they were sent from Rec Sports. PLEASE NOTE THE ISR IS AWARE OF THE MISPRINT AND WILL HAVE A CORRECTION UPDATE IN PRINT OR ON THE WEB I'M NOT SURE WHICH.

Dick
Here is the valve spring data you requested. The criteria we used to get these numbers are as follows.
*All valve spring full compression measurements were taken from 3 sample heads from each brand.
*The springs tested were OEM for sled brand and 3 good samples of each spring were used.
* We tested on our dial pressure gauge and a Dwyer digital pressure gauge, we took the test one step further and had 4 different people measure the same springs with the same gauges, and as I thought we came up with 4 different readings on both gauges, that being said the data below should be as accurate as we can get and be fair for everyone.
*.020 difference in spring height = 1lb in spring pressure approx 50 to 60 rpms
* All readings are +/- .010 on height and +/- 1 lb on pressure
2010 Arctic Cat with Yamaha engine
Exhaust spring measuring height .574 = 24 lbs max pressure
Intake spring measuring height .678 = 21 lbs max pressure
(Intake and exhaust cam lobes different)
Arctic Cat Suzuki with engine
Intake/Exhaust measuring height .756 = 33 lbs max pressure
Polaris with Robins engine
Intake / Exhaust measuring height .651 = 35 lbs max pressure
Ski Doo Mini Z and Mini Rev with Honda engine
Intake/Exhaust measuring height .620 = 23 lbs max pressure

Accuracy of this test will be based on the tester used and the measuring tool used for checking height.


Honda Surge Video
How to stop your Honda engine from surging at max RPM
Honda Vel Choke Tab
Service Update Pol Rocker
What You Should Know About Dyno's
WHAT YOU NEED TO KNOW ABOUT DYNO RESULTS
Recreational Motorsports has always sent a TRUE dyno sheet with all of our Champ and Champ X race engines. We pride ourselves on making competitive and durable engines, with many Championships to prove it.
The purpose of this bulletin is to clarify some common questions we get every year from customers when they get their engines and dyno sheet and start comparing it to last year's data or a friend's data or a engine from a different engine builder and find HP readings to be lower or higher. Our criteria is that all of the engines we build whether Champ or a Champ X must be within 2% of each other for THAT DAY of dynoing. That does not mean that they will be within 2% of the previous week's engines we have sent out. The following information below should help clarify why.
CORRECTION FACTOR when dynoing is a number that is used to help compare HP numbers from day to day when dynoing in different weather conditions. It is determined by several different conditions: Air Temp, Absolute Barometric Pressure, Relative Humidity, Vapor Pressure, and Relative Air Density. There are several different correction factors also, I am only going to talk about three of them.
(Observed) no correction factor used true HP for that day and conditions only.
(STANDARD J609) the most common and used by Recreational Motorsports, it is based on 60F air temp 29.92 barometric pressure @32F and dry air.
(SAE J1349) most commonly used by the auto industry it is based on 77F air temp 29.38 barometric pressure @32F and dry air.
Please keep in mind that most engine manufacturers believe that any change over 7% in any conditions constitutes retesting because correction factors will not give good results.
DYNO TYPES: There are many different types and ways to dyno a engine, each one can produce different results. Not bad results just different.
(INERTIA) this type of dyno uses a weighted flywheel that is coupled to the engine. When you open the throttle it measures the time it takes to spin up the mass and coverts it to a HP reading.This type dyno will yield lower HP numbers.
(LOAD BRAKE) this type of dyno usually hooks to the crankshaft directly or via a coupler and has a load that applies to the engine by water, oil or eddy current. This load can be varied or held at a steady state to show a HP reading. Recreational Motorsports uses this type of dyno because of the ability to show smaller changes in HP.
All of the above information will show different results in HP. The results are not wrong, they are just different due to style of dyno or correction factor.
BOTTOM LINE remember the next time someone says their engine is making more HP than yours the only way to really tell is by dynoing both engines on the same dyno under the same conditions.

KEEP THIS IN MIND: YOU DON'T RACE DYNO'S YOU RACE SLEDS. THE BEST ENGINE WILL ONLY WORK TO ITS FULL POTENTIAL IF IT HAS A WELL SETUP SLED TO PUT IT IN.

If you have any questions regarding this information feel free to call

Thank you
Scott Minzenmeyer
Owner Recreational Motorsports


Valve Springs Tech
Over the past few race seasons, Recreational Motorsports has been approached by concerned racers about the valve springs in their engines being ISR legal. Due to the discrepancy in manufacturing valve spring lengths can vary. This is a big problem with Polaris or Robins springs, but not so much with Arctic Cat. With Arctic Cat a .001 to .002 amount of dia difference can be seen.Wire diameter sizes sometimes see the same difference. Please keep in mind also that when using a dial calipers 4 different people can get 4 different readings. All the springs that Recreational Motorsports sells are genuine Polaris, Robins and Arctic Cat springs, although we check every spring not to be over legal length we can not guarantee they will be up to length.
120 Carb Tuning Parts Locations
We made this video to help you locate the tuning parts of your carb.
Finding Top Dead Center
This video was made to educate our customers on how to find top dead center for setting the valves on their 120.
Chain Identification
This RecTec video will help you identify what chain you have when ordering sprockets and clutches.
Hilliard Clutch Installation
Service Bulletin - Polaris Champ Engine
NOTE: This bulletin ONLY involves Polaris champ engines.

PROBLEM:
Rocker stud breakage, occurring mostly on exhaust side rocker arm after 1 hr engine run time.

REASON FOR FAILURE:
1. Lack of oil going to rocker arms at idle.
2. Over tightening rocker stud nut when setting valves.
3. Long periods of idling before race.
4. Harmonics for racing camshaft.

RECOMMENDED REPAIR:
1. Increase oil capacity from 18oz to 19ozs.
2. Run 10W30 wt engine oil NO 0 grade oils.
3. Reduce idle time before race.
4. Because breakage seems to occur after 1hr of run time we recommend changing both rocker stud bolts after every long practice session and after every 2 races, use Polaris part# 3086570 or Robins part# 269-35801-03 rocker stud. Both studs are ISR/WPSA legal.

PLEASE NOTE; This is not a major engine problem and has happened to a small number of engines, treat this bulletin as a normal maintenance schedule for Polaris Champ engines.

Thank you.
Speed Tips For The 120's
1. The 120's have very small track drivers which cause an excessive amount of friction on the track drive lugs as the track moves. This causes poor acceleration and top speed. The fix for this problem is to run your track with the least amount of tension possible and lube the hyfax and drive lugs with cooking oil.

We have also found a drive cog alignment problem on the Arctic Cat Z120. The only real way to solve this problem is to remove the drivers and grind them to fit. We do not, however, recommend this because it might void the warranty. The Z120 has another high friction problem. That is the lack of track clips on every window of the track, long runs in limited snow or on ice causes excessive heat on the hyfax from the rubber. We recommend contacting your local dealer and having them install the missing clips.

2. Brake band adjustment is very important not only for stopping, but also for maximum engine performance. A dragging brake can cause serious hp loss. The easiest way to determine brake band drag is to jack up the rear of your sled and run the engine at full throttle for 30 seconds. Then, shut off the engine and feel the clutch drum. It should be cool to the touch. If you feel any heat at all, re-adjust brake band to eliminate drag.

3. Radar testing has shown us that plastic skis will add over 1 1/2 MPH to the Ski-Doo Mini Z and the Arctic Cat Z120. The Polaris XCR120 comes standard with plastic skis.

4. Many hours of dyno testing has shown us that the use of Energy Release additive in the oil will keep the Suzuki, Honda and Fuji engines running cooler, which gives them max hp and torque even when the engine is heavily heat soaked from high RPM running.
Clutch Heat Tips
Clutch heat can cause performance problems on all centrifugal type drive clutches. There are 3 things that we have found in testing that can cause heat related problems:

1. Brake band drag which we refer to in the tips below.

2. Clutch drum bearing drag. We have found that bushing style clutch drums need to be removed on a regular basis and cleaned to prevent heat. Needle bearing drums like the one used on our RC-1335 clutches have much less coefficient drag which greatly reduces heat and need very little maintenance.

3. Clutch shoe slippage, which is caused by too high of spring tension and can be verified by a chattering sound and/or a jerky feel at engagement. This can be cured by going to a lower tension clutch spring. Dirty shoes can also cause slippage and can be fixed by removing shoes from the clutch and cleaning them with a good grade carb cleaner and drying them with air. Then take a small rat tail file and cut two small groves across the width of the shoe. This will give the normal dust and dirt a place to go giving you a more aggressive clutch.

Remember: 1. No brake drag. 2. Clean and lube drum bearing. 3. Clean and groove shoes = LESS CLUTCH HEAT.
Chain Tension Tips
Chain tension is very important for good speed. All sprockets and drive train have some run out. Rotate your track to find the tightest spot on your chain then adjust the chain to have approx. 1/4 inch of slack.
This will give you the BEST PERFORMANCE.
Rear Sprocket Break In Tips
By taking your rear drive sprocket and wire brushing the edges of the teeth on a wire wheel before installing, you reduce chain side friction and have a smoother rolling chain. This = MORE SPEED and BETTER TAKE OFF.
Grass Drag Tech Tips
GRASS DRAG WHEEL ALIGNMENT TIP: WE DO A LOT OF TESTING IN THE SUMMER ON OUR LITTLE SLEDS AND HAVE FOUND ONE AREA THAT MOST PEOPLE MISS WHEN SETTING UP FOR RACING AND THAT IS WHEELS. WE FOUND THAT GETTING A PAIR OF 8 INCH AIR TYPE DOLLIES WHEELS AND MOUNTING THEM DIRECTLY TO THE SPINDLES WORKS THE BEST. YOU CAN FIND THESE AT ANY TRACTOR SUPPLY STORE . MOST LITTLE SLEDS HAVE A LOT OF STEERING PLAY THERE FOR THE WHEELS TRY TO TOE OUT WHEN DRIVING CAUSING DARTING AND SCRUB SPEED. LAY A 2X4 ON THE GROUND AND ROLL YOUR SLED WHEELS UP AGAINST THE 2X4. WHILE HOLDING THE SLED HAVE SOMEONE ADJUST THE ALIGNMENT PERFECTLY STRAIGHT. THIS WILL GAIN YOU QUICKER ACCELERATION AND MORE TOP SPEED.
Arctic Cat Z120 New Drivers
Have your local ARCTIC CAT dealer order the 2001 drivers for your 2000 sled. It will reduce track drag and increase speed.
Polaris Xcr120 Plug Indexing
We have seen an improvement in performance on the Polaris XCR120 when indexing the spark plug. This means removing the plug,marking it where the plug gap is, then reinstalling it so the plug gap faces toward the piston. You might have to add 1 washer to the plug or try other plugs to achieve this.
Best Kept Speed Secret
There are many things you can do to your track to reduce friction but one of the main areas overlooked is the drivers. The problem they have is their diameter is very small which means their lugs stay in contact with the track lugs a lot longer. This causes the track to heat up and get sticky,causing drag and that causes loss of speed. Here's the tip: COOKING OIL. Go to the local grocery store and by a gallon of cooking oil, put it in a garden sprayer or hand spray bottle, and spray large amounts of oil on the drivers ,bogie wheels,and track lugs. You will see a big improvement in performance and speed.
Clutch Problems 101
ONE OF THE MOST COMMONLY ASKED QUESTIONS I GET ON OUR TECH LINE IS, "WHY WHEN MY SLED TAKES OFF DOES IT SOUND LIKE THE CLUTCH IS RINGING OR THE TRACK IS JUMPING COGS, ESPECIALLY AFTER YOU HAVE JUST INSTALLED DIFFERENT GEARS FOR MORE SPEED?"

(ANSWER) A CENTRIFUGAL CLUTCH ENGAGES AT A CERTAIN RPM. WHAT THAT RPM WILL BE IS DETERMINED BY WHICH SPRINGS OR SHOES YOU HAVE IN IT AT THE TIME. THE ABOVE PROBLEMS USUALLY OCCUR WHEN YOUR ENGINE DOES NOT HAVE ENOUGH POWER OR (TORQUE) TO ENGAGE THE CLUTCH AND MAKE THE SLED MOVE. HERE ARE JUST A FEW THINGS TO TRY: (1) GO TO A LIGHTER TENSION SPRING IN YOUR CLUTCH, (2) MAKE SURE YOU HAVE NO BINDING IN YOUR TRACK AND IT HAS BEEN LUBED ( AS PER OUR TECH TIP) (3) CHECK TO SEE THAT YOUR DRIVE CHAIN ISN'T OUT OF ALIGNMENT OR TOO TIGHT (4) CHECK TO SEE THAT YOUR BRAKE BAND ISN'T DRAGGING ON THE CLUTCH DRUM (5) RUN NO HIGHER THAN 87 OCTANE FUEL. ONE MORE THING: THESE LITTLE SLEDS WERE NOT DESIGNED TO HAUL AROUND ADULTS. LET THE KIDS DO THE TESTING.
Wheel Kit Speed Secrets
MOST PEOPLE DO NOT KNOW THAT THERE IS A RIGHT WAY AND WRONG WAY TO INSTALL A TRACK WHEEL KIT. WHEEL KITS COME WITH ONE OR TWO SETS OF WHEELS DEPENDING ON THE BRAND AND THE INSTRUCTIONS TELL YOU TO MOUNT THEM IN THE HOLES THAT ARE ALREADY IN THE SLIDE RAILS. THIS IS OK IF YOU ARE NOT LOOKING FOR TOP SPEED ON YOUR SLED. BUT IF YOU WANT TO FIND THAT LITTLE EXTRA SPEED ADVANTAGE, PROPER WHEEL PLACEMENT IS VERY IMPORTANT. PLEASE REFER TO THE FOLLOWING DIAGRAMS BELOW FOR A BETTER UNDERSTANDING OF WHAT I AM TALKING ABOUT.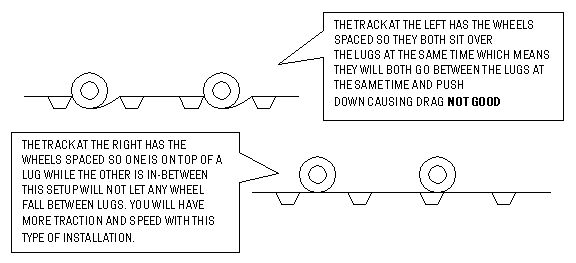 Fuels Which Type Is Better
THIS IS A QUESTION THAT WE GET ASKED A LOT AND WITHOUT GOING INTO GREAT DETAIL I WILL ANSWER IT. IF YOU HAVE A STOCK 120 SLED WITH NO HEAD CHANGES USE 87 OCTANE FUEL. YOU WILL HAVE EASIER STARTING, THE ENGINE WILL IDLE BETTER, AND MAKE MORE HP. IF YOU HAVE A 120 WITH ANY OF OUR HIGH COMPRESSION HEAD MODS USE 92 OCTANE. WE RECOMMEND AMOCO BRAND ONLY BECAUSE THIS FUEL IS MARKETED WITH NO ALCOHOL IN IT. HIGH OCTANE RACE FUEL WILL NOT MAKE MORE HP IN A STOCK ENGINE! WE HAVE PROVED THIS MANY TIMES ON THE DYNO.
Gearing Tips For Changing Snow Conditions
We have been getting a large number of phone calls lately from customers asking about gearing for different snow conditions. The following items need to be kept in mind when picking gearing: Under wet snow conditions, which usually occurs during warmer temperatures, the following things happen: warm temperature decreases engine performance even when jetted properly. It also creates more under hood heat which decreases engine performance even more. So, the proper gearing selection for this condition would be to gear down or put a bigger sprocket on the drive axle. This will allow the engine to have less load placed on it and give it the ability to rev higher, which will let your sled go through heavier snow with less effort. Your top speed will be reduced by a small amount but low end and mid range performance will be increased. This set up works very well for snowcross applications and normal play riding.
Valve Spring Survival Tip
Racers! One of the major governing factors in good engine rpm is valve spring tension. To keep valve springs from fading out and lasting longer, try this tip: At the end of each race day, turn your engine over to top dead center (TDC) on compression stroke. This will put your springs in the most relaxed position causing less fatigue and spring sag when sitting over a long period of time.
Rocker Arm Breakage Tip
We have found away to gain some performance and reduce rocker arm breakage. Here's your tip: Take the adjusting nut from your rocker and mount it in a lathe or drill press. Then apply a small amount of valve lapping compound to the end. Slide your rocker arm over nut like it is in the engine and move it in a rocking motion while spinning nut. This will match the arm to the nut and give you some hidden rpm.
Under Hood Heat
The best way to get a good hole shot with your 120 is to warm up your engine 5 to 10 minutes before the start of the race. The reason for this is to let the engine oil have time to thin out causing less oil drag and build good combustion chamber heat to burn the fuel better which means more HP and better throttle response. BUT what most racers don't realize is there is a right way and a wrong way to do this. The right way is to always let your engine idle with the hood up so the air under the hood stays as cool as possible. This will allow the engine to breathe cold air until the start of the race. Cold air has more oxygen in it than hot air. More oxygen means more combustion heat, and more combustion heat means more HP. More HP means better hole shot.
Valve Clearance 101
I am going to keep this simple, valve clearance can change the performance of your engine. Here's how: USE THIS TIP ONLY ON STOCK ENGINES: 1) By tightening the clearance on both valves to .003 you will retard your cam timing which will give you better top end performance. 2) By loosening the clearance on both valves to .007 you will advance your cam timing which will give you better take off or bottom end.
Fast Track Slow Track
Here's a little trick you have probaly seen the fast guys doing at the race track but did not know why: It's called heating up the track when your 120s track sets on the cold snow. It takes a second by raising the track off the ground (ON A STAND)and running it while you're warming up your engine you also warm the track up making it easier to roll which means less drag, which means less work for the engine, which means a better hole shot off the start. The only thing to remember to do is lube the track with COOKING OIL so you do not heat up the hifax. We tested this tip on our track dyno it is good for a couple tenths of a second in 100 ft that's 1 sled length.
KEEP WATCHING FOR MORE TECH TIPS IN THE FUTURE!