About Us
Hours: Monday, Tuesday, Wednesday, Friday 8:30am - 5:00pm Thursday 8:30am - 6:00pm Saturday & Sunday by appointment only.
Recreational Motorsports has been in the business of performance machine work and dyno testing since 1993. We specialize in Motorcycles, ATV and Snowmobile engine rebuilding and machine work. We also provide services like fork tube and axle straightening, crankshaft rebuilding, balancing, cylinder boring, piston knurling, porting and a host of other machine services.
We also build a complete line of championship winning Arctic cat Z120, Polaris XC120 and Skidoo Mini Z performance parts from drive clutches to Champ racing engines. Whether you are racing or just play riding, we have all the parts you need for your 120 snowmobile.
Our Competition Toy services include custom engine building, specialty performance parts and dyno testing for Garden Tractor pulling, Lawn Mower racing, Mini Cup cars, Mini Baja cars and Golf Car racers.
Whether you are building your own engine and just need custom parts or machine work or want a complete engine built we can help. All of the knowledge we have acquired over the years from racing and designing products helps us to provide a good quality and FRIENDLY service.
So check out the parts and service area of our website that fits your needs or just give us a call and we will be glad to help you.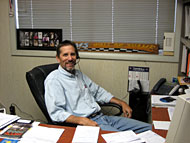 Scott Minzenmeyer: The boss and the man with all the crazy ideas.
Tex Minzenmeyer: The bosses dad the one who makes the crazy ideas work.
Wes Smith, Fabrication: The man who gets to make all the cool mountain sleds we build.
Tim Bascom: Our main man in the shop, he has been around the 120's since we started.
Alex: The main man in charge of shipping and receiving.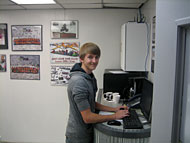 Caleb: Our computer wiz who takes care of our Facebook page and Videos
Dave is the other half of the R&D dept, he's the one that builds all of our proto types.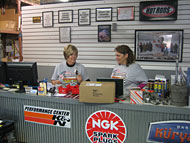 Deb on the left is the nice lady who takes orders and does all the shipping. Diane on the right is our office manager she keeps the Boss and the office running smoothly.