Cobra Parts and Accessories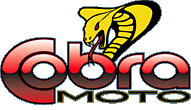 Recreational Motorsports is an authorized Cobra dealer! We stock MANY of the parts and accessories for the Cobra motorcycles. You can order here on the site or call with your year and model of bike!
Please call us at 319-462-6932 for more information or if you have any questions.